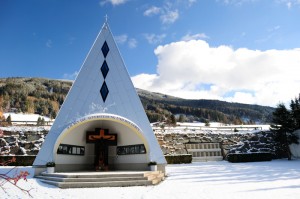 Contributed by Rafael Jamin
If there is one thing people will tell you about train stations in Europe, it is that if you have a Euro-rail ticket, you have to go EARLY so that you can activate it. Keeping this is mind I went to Prague's Central train station 2 hours before my train was supposed to leave.
Now when you think central train station, you usually picture a few platforms for getting on and off, and maybe a few shops. But Prague's central station is about as large as Edmonton's international airport. It took me half an hour of wandering, playing charades, and deciphering very broken English just to find out where to get my Euro-rail ticket activated.
I arrived at the ticket station and there was… no one. I mean there were 7 booths open and not one had a single person in line. So I walked up to an English dedicated booth where I quickly activated my own ticket and realized I still had an hour and twenty minutes to wait.
Luckily there was a good coffee shop in the station and I was able to just put my feet up and relax while I waited for my train.
The train ride ended up being an hour and a half longer than expected and so the friends, Anna and Kathi Grier, who were picking me up ended up waiting that whole time at the Innsbruck central station. And true to the style of the trip, I chose the wrong group of people to follow out of the train and ended up outside in a giant car park, with no one waiting for me. After a confused phone call with Anna, I realized I had gone the opposite way and needed to back track.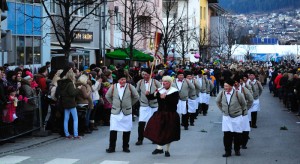 We arrived at a small Austrian town close to the Grier's hometown for a special spring festival called "Mullerschaugn." This event would take pages to explain so I'll just tell you to look it up online if you are curious. All I can say is it is one of the weirdest celebrations I have ever been to.
So after this celebration we went back to Patsch where I was going to stay the weekend in a 500 year old house.
For day one in Austria, we headed into Innsbruck for some shopping. While we walked through the mall I noticed a kitchen store had a very odd knife block. It was a ceramic person with the knife slots going through various parts of its body. As a joke I asked Anna "is this supposed to be a hint that you should not annoy Austrian women?" which made us both laugh.
The next morning Anna surprised me with a day trip into Bolzano Italy for ice skating with some of her friends. We all piled into her friend's car and drove south.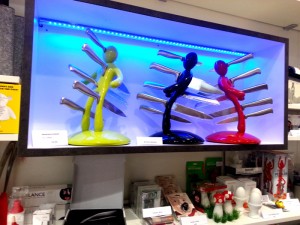 Now at this time of the year Bolzano was at a balmy plus 15 and sunny so I was the weird Canadian in a t-shirt while everyone else was still bundled up. A few hours of wandering around, skating, and eating true Italian Pizza later we headed back home.
Finally on Sunday I headed for Salzburg with Anna to visit the boarding school she goes to. We caught a ride with some of her friends and I ended up sharing mountain photos with an Austrian farm boy beside whom I was sitting. At the end of the ride he sold me some cheese from his family's farm in western Austria. Although the cheese selling situation was a little awkward, it was some of the best cheese I had ever eaten.
I stayed in a room the boarding school had graciously put me up in for free till Wednesday where I spent my time relaxing from the crazy party life in Prague and exploring the old town.
Wednesday came with a major change in plans. The friend I was supposed to stay the next few nights with ended up being too busy. So I made a quick decision and took a train east to Vienna for two nights and up to Munich Germany for 1 night. While in Vienna and waiting to meet with another friend I sat down in a coffee shop and attempted to order a coffee in German. Somehow I managed to screw up saying "one coffee" and they thought I had said "Iced coffee."I must say it was the tastiest mistake I have ever made because they served me coffee cooled with scoops of coffee gelato and topped with whipping cream. The second night in Vienna I started to feel stuffed up and after a night at a beer hall in Munich I had a full blown cold.
With a pocket full of tissues and enough hot tea to drown a fish I set off on a train for France.
This slideshow requires JavaScript.