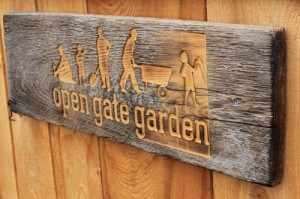 By Korie Marshall
McBride's Open Gate Garden got a financial boost from Northern Health to continue construction and development of the community garden.
Nancy Taylor, one of the organizers of the Open Gate Garden, says the gardeners are very grateful for the $2000, and will be putting it to good use. She says they will be building nine more beds this spring and finishing the fence, and they hope to purchase locally made wooden furniture and develop a seating area at the front, possibly with a bike rack and a pergola. She says decisions are made by consensus of the members in the garden group, so things are flexible.
"The Open Gate Garden is part of a Community Literacy Program that recognizes we are learners and we are all teachers," says Taylor. Literacy goes beyond reading and writing, it also speaks to community involvement, learning to work and socialize with each other. "People that are the most invisible are the ones we need to engage," she says, and this project helps people to feel they have something to contribute."
Taylor says the gardeners meet once a month on Friday mornings at the McBride Library, which is the steward of the Robson Valley Community Learning Project, supported by Decoda Literacy Solutions. The next meeting is March 28th, and one of the topics on the agenda will be evaluating Seedy Saturday, a workshop they are organizing at the Dunster School on March 8.
The project is one of 45 community partners to receive 2014 IMAGINE grants from Northern Health, to help improve the health and well-being of the community. Northern Health offers the grants to community based projects and partnerships that support prevention and better health in the north. Grants this year totaled $125,150.