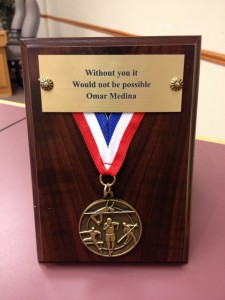 By Korie Marshall
Local star track and field athlete Omar Medina will be competing in Kamloops this weekend, the first event of the season, and his first after recovering from a leg injury. He has also recently thanked his supporters in a touching way.
Last year, while warming up for a provincial competition, Medina says he felt the searing pain and stiffness in his leg characteristic of sciatica. He has flat feet, he explains, which increases the impact of running and jumping on his legs and back. That impact can cause compression or irritation of the sciatic nerves which run from the lower back through the legs, causing pain, tingling, and difficulty controlling the leg, usually on one side or the other. Because of it, he was unable to attend the Legion's Canadian Youth Track and Field Nationals in Langley last year, for which he'd been ranked third in his age group. Even so, Medina says his furthest jump of the year stood as third in all of Canada at the end of last year's season.
But one of his new schools is helping him understand anatomy and mechanics, so he can alleviate and avoid sciatica symptoms in the future.
"It's definitely made me a lot stronger," he says.
Medina, a Grade 10 student who has lived with his family in Valemount for some time, is now attending two schools in Prince George. In the morning, he attends regular core classes like math and sciences at College Heights Secondary. In the afternoon, he goes to the Sports Centre at UNBC, where he learns about training with weights, nutrition and how to become a better athlete.
He has won a lot of medals over the years, but he recently acknowledged the support of local people and organizations by giving them medals – including a medal mounted on a plaque for the Village of Valemount. In his letter to Council, he explains he has learned not only about success, but about failure, and that one must learn how to lose before one can win and advance to higher stages.
Medina plans to compete in at least three events this weekend in Kamloops – 200 metre race, 60 metre race and the long jump, and he will likely race in a relay as well. The event is at the Thompson River University track, Feb. 14-16.
Good luck Omar!