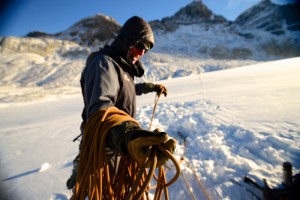 Photos and Story by Bob Covey
A bitter wind is whipping over the Columbia Icefields, picking up shards of snow and creating styrofoam-stiff drifts at the toe of the Athabasca Glacier. Lying prone in the middle of the white expanse, the Robson Valley's Jesse Milner is twisting an ice screw into the ancient glacier.
Taking his gloveless hand away from the task to amplify his voice over the wind, he yells something I can't quite make out through my down-filled hood.
"I said, the ocean is nice, but this is more soothing," he says, laughing wildly.
Milner, who's just back from a month in Belize, doesn't mind the beach, but he's more at home on a sea of snow. A BC Ranger at Berg Lake in the summer and a ski guide in the Cariboo Mountains in the winter, Milner has placed an ice screw into this frozen fjord because he's preparing to take an Association of Canadian Mountain Guides (ACMG) exam in just two weeks. To qualify at the Association's top standards, he'll have to demonstrate, among other skills, that he can execute a crevasse rescue.
"I'm excited that you guys want to get after it," he says while creating a system of hitches, knots and slings with which he'll haul his mock-victim to safety. And although he's talking about his climbing buddies, who've volunteered to help him practice glacier travel, Milner's most valuable asset thus far in his guiding career may well be his own keenness. After all, he's wanted to "get after it" as long as he can remember. The 25-year-old recalls vividly staring up at the Canadian Rockies' highest mountain from the Robson Shadows Campground, where his parents took summer vacations from their Willow Creek homestead.
"I wanted to climb Mount Robson since I was six," he said.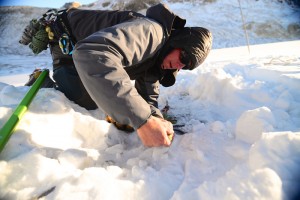 This past summer, he did just that. After getting hired on by BC Parks to become the province's youngest backcountry ranger, his season was spent manning the Berg Lake post when veteran ranger Chris Zimmerman wasn't on duty. He chopped wood, maintained trails, interpreted the environs for visitors, cleaned privies, logged weather, aided rescues, and scaled nearly all of the surrounding peaks, including Robson. The experience was a dream come true—and not just because he was doing what he loved in one of the most spectacular alpine settings in the world. The real treat, Milner said, was learning from his fellow ranger.
"The biggest highlight was getting to work with Chris and learning from such an amazing person," he said. "He's got so much knowledge and he's been up there so long…it was inspiring to get to work with someone like that."
Milner's been lucky to have worked with many inspiring individuals. From McBride wood crafter Glen Stanley to Jasper public safety specialist Steve Blake, Milner says the passion and the skills he's been exposed to have helped him become not just a better technician, but a better person.
"I love being part of a really good team, being out there looking after each other," he said. "That's a big part of it for me."
While Milner's skills have been embraced by teams at Mount Robson Whitewater Rafting, Cariboo Cat Skiing, Crescent Spur Heli Skiing and most recently the BC Parks Service, it was his work as an individual that helped fast track the young guide's journey. As a volunteer for the Ozalenka Alpine Club, Milner's efficient trail clearing and capable bridge building was noticed by a party of prominent alpine guides, who happened to be visiting one of the club's cabins.
"They thought it must have taken me a week," Milner recalled. "I said 'nope, just a couple days.'"
That love of working outside—not to mention a high fitness level and the ability to be self-sufficient—has helped Milner come full circle. A lifetime in the mountains has prepared him for the career he's chosen, and his hunger to keep learning will help him progress to his next goal: becoming the go-to guide in the Robson Valley.
"Jesse has a very well-developed mountain sense which shows from having grown up in the Cariboos," said certified ski guide Cam McLellan. "[But] one of Jesse's most impressive attributes is how open and receptive to feedback he is."
Back on the Athabasca Glacier, Milner's insistence on improvement is on display as he reconfigures a knot which is just a little too untidy for his liking. As his training partners clap their hands together to keep warm, the unflinching Milner talks himself through the process.
"Don't rush it," I can hear him murmuring.
It's a fine metaphor for his work ethic, his guiding style and his advancement through the Canadian Mountain Guides program. Focus on the task. Take it one step at a time. Learn at every interval.
Knot secure, Milner hauls up his payload an hour after the scenario began.
"Good things take time," he jokes to his frozen friend.