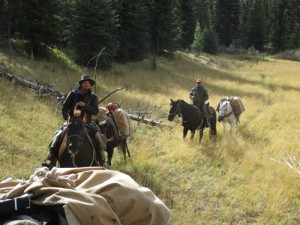 Your hands are cold so you stuff them in your jacket pockets. You wish you hadn't packed your gloves in your bag which is now strapped to the horse. You pull your scarf tighter around your neck. The smell of horse and the leather reins and the smoke from last night's fire accompany the sight of the frosty meadow. Aspen trees shine yellow along rivers and draws. Every once in a while a stand of willows pops out in red.
There isn't a road for miles, and that's ok. You're out to find the South Fork Horse Camp, across the Snake Indian River. It's a place few have seen.
The trail you ride has been ridden before, but not for years. In the 1990s, Sean Elliott guided Swiss visitors along this trail with an outfitting company in Jasper; their Swiss clients often requested to go off the beaten path. The last trip he took to the area was in 1997-98.
Since then the trail has seen little use. It's an offshoot of the North Boundary Trail that leads you to the Moose River. Packhorse trips like these are becoming less common, says Elliott. Going this distance takes too long for most people: one to four weeks. Elliott isn't sure about the history of the trail, but says it was likely travelled by park wardens and early outfitters.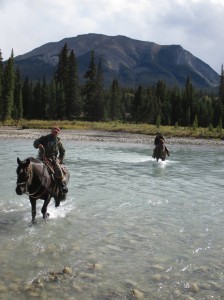 "I wanted to go back there and try to keep the area open, because once it goes so many years without anyone using the trail, it just sort of disappears into oblivion," Elliott says.
While Elliott and Travis Anderson have been doing an annual pack horse trip since the 1990s, rediscovering the trail took time and patience. With them was their friend John Crowley. The three of them had six horses in total. They packed their food, cookware, tents and clothing in panniers and top packs draped over the horses. Together, the packs often weigh 150 pounds, about the same as a rider.
This year's trek is a six day journey from their start point near Willmore Provincial Park, a two and a half hour drive north of Jasper.
Anderson has gone on horse trips since before he can remember, first with his father while he was working in Jasper as a park warden. Then he met friends who had horses and the bug for backcountry horse travel.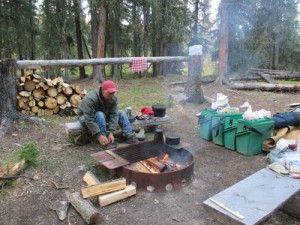 Elliott still works for the outfitting company Astoria, out of Jasper. It was his idea to rediscover this area with his Valemount friends.
Today, most guide outfitters cater to hunters. In Jasper National Park and Willmore Wilderness Park, the trips harken back to a time when pioneers were discovering this part of the country, and the point is usually to see the beauty of the landscape.
During their six days, the men did see wildlife, including what they believe was fresh grizzly tracks. They saw Bull Elk kills and a curious moose. Crowley brought along his dog Whalon.
While riding a horse is certainly preferable to wading through streams and mud flats on foot, the horses present some challenges. Anderson says there is the daily event of finding your hobbled horses, catching each and riding back to camp bareback. Once you've got the horses at camp, you have to repack your gear.
Some of the trail they rediscovered was overgrown or blocked by rockslides.
In the pioneer way, they had to do some trail finding.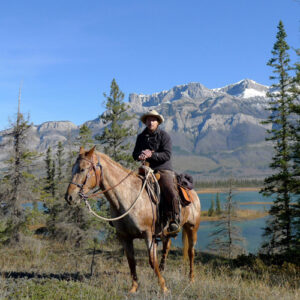 Elliott says he hopes to take customers on the rediscovered route. He says it is a special country.
"You can see a lot of amazing country. Especially when it comes to crossing rivers and that kind of thing."
"It probably part of what's kept people away from the area, since it's impractical to go there."
Elliottt says commercial trips run around $300/day (including the horse, food, guide etc).
He hopes to keep the South Fork Horse Camp on the map.

By Laura Keil
Photos submitted by Sean Elliott, Travis Anderson & John Crowley.
This slideshow requires JavaScript.