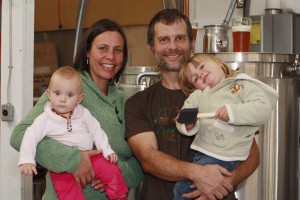 The buzz of machines, the smell of grain, the clop of gum boots on the concrete floor. It's Valemount's first micro-brewery and the 'On' button has just been switched.
Michael Lewis and Rundi Anderson have the permits in hand at Three Ranges Brewery. The first batch – a Pilsner – has begun its fermentation in the huge stainless steel and plastic vats in their brew house on 5th Ave. It will take another month before any Three Ranges brew flows into customers' glasses, but there is plenty of excitement in the air.
Lewis explains the first batch will be an experiment and he will refine it until he's ready for it to hit the taste buds of customers.
A retired US army helicopter pilot, Lewis studied an advanced home brewing course at UC Davis in California, after trying unsuccessfully to learn on his own.
He described his first self-taught batches as "horrible."
But not more than a year later, after taking the brewing course, Lewis won several awards – including being selected by Phillips Brewing Co. in Victoria to be their showcase beer in 2011.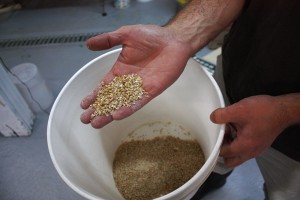 The couple decided to move to Valemount to be closer to Anderson's family and because they saw the opportunity to build a business. Anderson is a former Parks Canada park warden. The couple has two small children. They relocated last year and set to work building Three Ranges Brewery.
They plan to brew eight to 10 batches per month – their maximum capacity. Their distribution will be limited to the Robson Valley to begin with, and they are finalizing which stores or restaurants will carry it on tap or in cans.
They already have a license to sell samples of the beer – up to 375mL per person per day. That amount can be 93mL of each variety or 375mL of a single variety. The tasting room on 5th Ave. will be open several days a week once they open.
In addition to samples, they will sell the beer in 1L or 2L growlers, in cans and in kegs (with prior notification). They have a canning machine on site, though Lewis notes it's labour intensive.
Lewis says he brews what he likes to drink. For sale in cans will be a Pilsner, Pale Ale, and Brown Ale. On tap will be those three plus an India Pale Ale. Lewis says he also has plans to have seasonal beer in the summer.
Right now Lewis says he is still getting used to the bigger scale of brewing. His brew house was custom built by a friend's company KS Customs. His first batch of beer in the 5th Ave. brewhouse, a 250L batch of Pilsner, took six hours with three people – he and helpers Clayton Gee and Corey Bergen. That said, he says it takes 5-6 hours per batch regardless of volume because of the steps and wait times involved.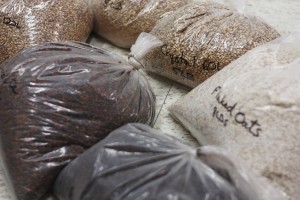 As part of the municipal zoning, the facility must include tours and tastings.
They hope to be open for business in November.
By: Laura Keil