Valemount Community Forest's new manager, Craig Pryor is getting straight to work.
Pryor spent some time in August with his predecessor, Shane Bressette, who has been Valemount Community Forest's manager since inception five years ago. Bressette gave the Valemount Community Forest his notice after he and his family decided to move towards the Prince George area for personal reasons.
Pryor is already moving ahead with work on the Five Mile Road system, and has met with Chris Ortner, project manager for the Bridges II project, whose focus right now in the Valemount-McBride area is to build a database of value-added manufacturers and their raw materials needs and products, to help encourage collaboration.
Pryor told the Goat that he was born and raised in Edmonton, and after graduating from the Forest Technology School at the Northern Alberta Institute of Technology, he moved to McBride for a summer position, and was offered a full time job by the end of the summer. He's worked in the valley for Zeilders, West Fraser Mills Ltd., then Carrier Lumber Ltd since 1995. When Carrier slowed down its operations, he took a job with West Fraser in Quesnel as a Planning Coordinator.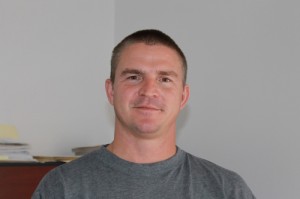 "When the job as Manager for the Valemount Community Forest came up I jumped at the opportunity to come home," says Pryor.
He says he has worked in all aspects of the forest industries, under a number of companies, and that has given him a good basket of approaches to draw from.
"The opportunity to pull all this background together under one umbrella was very appealing to me," says Pryor. "I very much look forward to the challenge ahead."
Valemount Community Forrest is at the beginning of a five year cut period, with an allowable cut of 33,000 cubic meters and a top up of 75,000 cubic meters for pine leading stands. That is a total of 108,000 cubic meters per year, and Pryor says they hope to log that amount this year.
Before leaving his position, Bressette made a presentation to the Chamber of Commerce, explaining that in 2003, government regulations were changed so that companies were no longer required to manufacture near where they logged. Community forests were intended to mitigate some of the losses to manufacturing and jobs in local areas.
Bressette also noted that the first priority of the Valemount Community Forrest has been dealing with the Mountain Pine Beetle epidemic. Other priorities continue to be maximizing local employment and manufacturing opportunities, working on initiatives to expand the Community Forest Area, fostering good relationships with First Nations that have territorial and traditional-use interest within the Community Forest Area, and working with local recreational groups to synergize objectives and opportunities for the community.
The Valemount Community Forest's sole shareholder is the Village of Valemount. The Village netted roughly $800,000 in equity earnings over the years 2011-12.