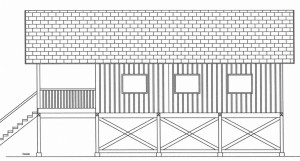 A new shelter in the Clemina Creek Managed Snowmobile Area will replace an old one that was small and surrounded by sensitive wetland.
The new shelter is slated to offer a bigger more comfortable space for users, and will be located along the Clemina Creek Forest Service Road.
VARDA General Manager Curtis Pawliuk says the shelter's main purpose is for an emergency – to store search and rescue equipment and act as a base of operations. But it is also a rest stop for sledders allowing them to build a fire and warm up. In the old shelter, groups of sledders would have to cycle through to warm up, since they often could not fit everyone inside.
Pawliuk says VARDA initially wanted to build a cabin at Chappell Creek, but they were turned down by the Province last year due to the proximity of Mountain Cariboo habitat and heli-ski terrain.
After being declined for Chappell Creek, the VARDA board decided to put the money towards replacing and moving their Clemina Creek Cabin which was attracting ATVers, hunters and hikers in the summer. During winter, there is no direct contact with the ground due to the snow, but summertime ATVs have led to concerns around damage to the sensitive environment.
"The potential for conflict, and environmental damage in Clemina and the inadequate size of the Clemina Creek cabin, it just made sense," says Pawliuk who estimates the area sees 4,500 users annually during the winter snowmobile season.
He says VARDA has been putting away money for a new shelter at Chappell Creek for many years; that money will now go towards the Clemina project, but they are also collecting donations from anyone interested to help with the cost.
VARDA maintains four day-use cabins or shelters in the Valemount area, which are used primarily by snowmobilers. Pawliuk says this is the first cabin they have built in many years.
He says the upgrades are important as many communities are fighting for a fixed number of sledders.
"There are lots of communities 'up and coming' that are doing this type of stuff. We need to start refurbishing our infrastructure for sure."
He says some of the improved usability comes from having more room around the fire, having drying racks, and a covered patio. It will also include a pit toilet.
The cabin, while built primarily for winter snowmobile use, is open to any backcountry user for day-use activities.
VARDA was unable to secure a builder for the project this season due to the timing of the approvals and tender requests. Pawliuk says they will have to postpone the new Clemina Creek shelter construction until the summer of 2014, and a new request for tenders will be circulated in early spring. The requested site is within an existing roadside cut block and no timber removal is required; minor machine work is required for the site preparation.
Their agreement with the Province is that they will remove the old shelter once the new one is in place.
VARDA does not yet know what they will do with the old shelter, Pawliuk says. It is in usable condition and they are considering donating it to another user group, or possibly use it at another snowmobile location.