Credited with more than 60 first ascents and new routes in the Canadian Rockies and the Purcell Range, Conrad Kain put the spotlight on mountain climbing in western Canada 100 years ago.
July 31st marked 100 years since he made the first ascent of Mt. Robson with two other climbers – W.W. "Billy" Foster, and Albert "Mack" MacCarthy, both members of the nascent Alpine Club of Canada (founded in 1906). The route they took became known as the "Kain Route" and many climbers have followed in their footsteps.
On July 31st 2013, Valemount's Reiner Thoni, who has won the North American Mountaineering competition, ascended Mount Robson with friend Jeff Colvin, skiis strapped to their backs.
They also did the Kain route but accessed it from the front side of the mountain, climbing up the Patterson spur and onto the Robson Resplendent ridge and then onto the Dome and Kain face.
(see below the 1913 route compared to the 2013 route. Green is ascent, red is descent.)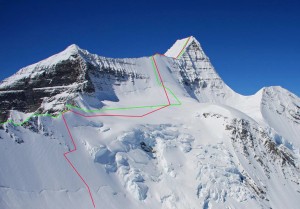 At almost 4,000 metres, Mount Robson is the highest peak in the Canadian Rockies.
"It's pretty amazing how many different ways this mountain can be climbed," says Thoni, who has climbed Robson several times. "With an ever-changing glacier, even the classics like the Conrad Kain route are being modified for routes that favor less-objective danger,"
Paralleling the early bush-whacking that climbers did for months to reach Mt. Robson pre-railway, Thoni and Colvin had to bush whack from Kinney Lake to access the Patterson spur.
Thoni says their main challenges were with the descent. Ice en route made for challenging skiing down the summit ridge; a very high freezing level made the Kain face unstable. Luckily with skis they were able to control the hazard and ski cut an avalanche that allowed them to down climb the bed surface.
"Without skis we would have been waiting in a thunderstorm well into the night for the temperatures to come down."
Equipped with modern crampons, light-weight ice axes, thin warm clothing and other current gear, Thoni says he finds it amazing to see pictures of the pioneers who found their way up and down the mountain with such basic equipment. Reverend Kinney (Kinney Lake named after him) and Donald (Curly) Philips reached what they thought was the summit in 1909 – with only one ice axe and a rope between them. They later learned that they had not reached the actual summit.
Kain had arrived in 1909 as a 25-year-old hoping to become a professional mountain guide. At just 5 feet 5 inches, he had a stocky build with broad shoulders. He smoked a pipe and had a dark moustache.
In his autobiography "Where the Clouds Can Go" Kain wrote that "Life is so short, and I think one should make a good time of it if one can. The only thing I enjoy now is Nature, especially spring in the mountains, and letters from friends. Sometimes I think I have seen too much for a poor man. There are things that make a man unhappy if he sees the wrongs and can't change them."
Even though he was poor most of his life he wrote that after looking at an alpine vista, "It occurred to me that after all I was a rich man, even if I had no money."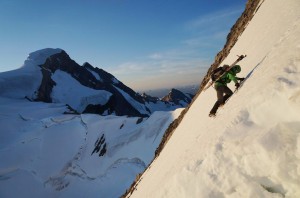 At the top of Mt. Robson Kain wrote in the Canadian Alpine Journal that the "view was glorious in all directions."
"One could compare the sea of glaciers and mountains with a stormy ocean. Mt. Robson is about 2,000 feet higher than all the other mountains in the neighborhood. Indescribably beautiful was the vertical view towards Berg Lake and the camp below. Unfortunately, only 15 minutes were allowed us on the summit, 10 of pure pleasure and five of teeth chattering. The rope and our damp clothes were frozen as hard as bone. And so we had to think of the long descent."
Mount Robson Provincial Park, which was designated a UNESCO world heritage site in 1990, turned 100 on March 1st 2013. Established by the BC legislature in 1913, Mount Robson Provincial Park is B.C.'s second oldest provincial park, after Strathcona Provincial Park.
You can see more photos and read more details about the early climbs at the Mt. Robson Visitor Centre's new display about early mountaineers.
Watch Reiner Thoni's video of his climb and descent at his blog theoutsideout.blogspot.ca
By: Laura Keil