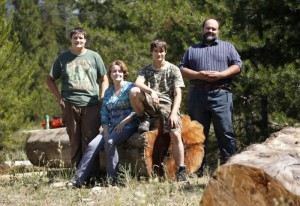 Wood otherwise left to rot or burn; wood floating in Kinbasket Lake; wood nobody else would touch: that's what catches the eye of the Kozakiewicz family.
Office workers turned furniture makers and sellers, Peter and Marzena, and their sons Paul and Lukas, recently moved to Valemount from Onoway, Alta., to run their rustic furniture business Treasures of the Forest. Paul, in Gr. 12 and Lukas, in Gr 10, are the "muscles" of the business, their mother says. They all play a part.
"This one is probably 300 years old," Peter says of a log lying in the tall grass on their Cedarside property. "It was standing on the mountain about to be burned."
Their philosophy to only use "found" waste wood is inspired by environmental considerations, but they also could not believe some of the wood being burned.
"When we went to the lake we discovered there's lots of driftwood drifting around, and it's being burned, and I thought, 'This is good wood.'"
They have been discouraged by others who say it's not good wood, that you can't work with it.
"I'm stubborn by nature, so I still tried," Peter says.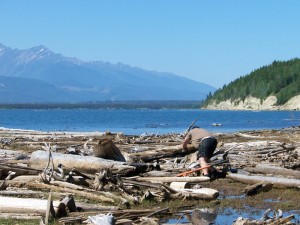 The results are inspiring: from water-logged Cedar trees, bobbing in Kinbasket, to unique bed frames with natural holes and knots – thick, heavy pieces.
Since quitting his financial advisor job last January, Peter, a self-taught carpenter, has built 100 pieces of furniture, 50 of which are huge boardroom tables, hewn of salvaged Cedar and Douglas Fir. Their bread and butter is tables and beds; but they also make shelves, bars, desks, end tables etc. on their chainsaw and bansaw mills. The pricing is all mid- to high-end – though they also sell directly to customers without retail mark-up.
While the source of the wood is from perceived waste, the end products claim longevity, Peter says.
"Our furniture is supposed to last many generations – it can be willed to grandchildren."
The Kozakiewicz', originally from Poland, say they were inspired by a strong tradition of "Knights Tables" which are common in Poland. He says some of the trees they use from their Dome Creek property are 1,000 years old. Many of the knights tables in Poland are hundreds of years old.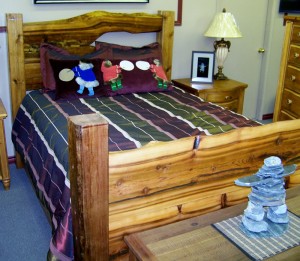 "Hopefully our furniture will last that long"
Over the past decade in the Robson Valley, many micro or family mills have found markets, and some niche wood manufacturing businesses too. The Kozakiewicz' join a dozen or more family wood milling operations in the region.
The family's philosophy dovetails with a community that is facing fibre restrictions in future years. But the Kozakiewicz' are not seeking waste wood out of convenience – it's a green philosophy they are proud of and is a selling feature to customers.
They only source wood from their own private property, from the community forest, or driftwood. They have sourced their wood from the Robson Valley since they started making furniture five years ago.
The family gets its oldest wood from their 116-acre property that abuts the Ancient Forest near Dome Creek, about an hour north-west of McBride. The Kozakiewicz' learned of the property from a Save The Cedar League campaign to save the property from industrial development, which it had been zoned for.
The family has been approached three times by different people wanting to log birch and other species. Each time they have refused.
The Kozakiewicz' are not against logging in general, however, and say they understand the need for all the wood products that come about from cutting down trees; but they feel good about not cutting any more than needed.
As of last month, the family's furniture was being carried in six stores in Alberta and BC. Peter and Marzena plan to keep it a family business while they apply for a zoning amendment to their Cedarside property, but hope to eventually hire up to six workers for the growing venture. They have even received some local orders.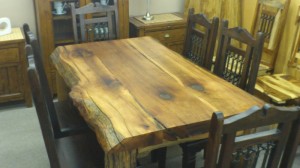 Their sons will soon be leaving for post-secondary school, which will leave them short-handed.
"For some reason they have this idea that he will be a psychologist and he will be an archaeologist," Peter says, smiling.
Paul says he still plans to do selling for the business while he attends university.
By: Laura Keil