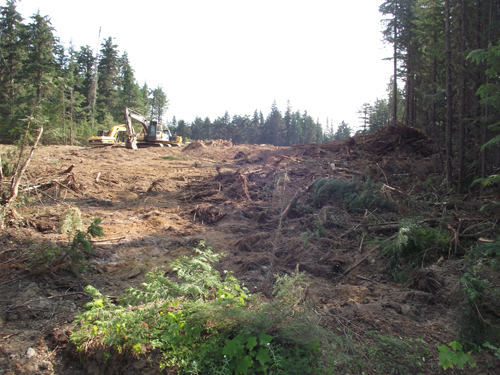 Clearing has begun for construction of a new Telus cell tower in Dome Creek. Liz Sauve, spokesperson for Telus says the site is planned to go live later this year, and is part of Telus's 10-year Connecting British Columbia agreement signed with the Province of BC in 2011. Under the contract, Telus will connect more than 1,700 kilometers of highway in BC with wireless service.
Ken Kehoe, who owns property in Dome Creek, says "This cell tower is long overdue given the amount of traffic between Edmonton and Prince George and beyond."
The tower in Dunster, announced last winter, has not begun construction yet and according to Suave, it is scheduled for construction for 2014.
Andy Shepherd, a resident of Dunster, was disappointed to hear that the tower is another year or more away.
"I just want decent service," Shepherd says.
He's begun looking into satellite service for internet, as he can get neither cell service nor internet at his home near the Dunster store, even though he knows a fibre optic cable comes into Dunster.
Shepherd says he's heard from Telus technicians that it would take $100,000 to refit a local transfer station to enable residents to use the fibre optic line.
For maps of current 3G and 4G wireless coverage within BC and Canada, go to http://mobility.telus.com/en/BC/canada_travel/3G_canada_travel.shtml and http://mobility.telus.com/en/BC/canada_travel/index.shtml?INTCMP=coverage.
By: Korie Marshall