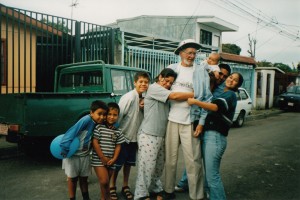 Hear that? It's the clink of coffee cups; it's Bob Beeson at the Gathering Tree telling one of his stories; of his first impressions of Valemount in 1948 (where have I landed?); or his escape from custody (he took part in a protest) by jumping from a train; or almost freezing to death on the Alaska highway; or maybe about his recent tour in Cuba – all the photos he took and the camera he lost.
You've seen them I'm sure. It's hard to walk through town and not see something Bob helped build; look up at the ceiling in the Legion, or see the Community Hall, Fire Hall, Cemetery, Catholic Church, old Ptarmigan Café, Golden Years Lodge – even the layout of town.
He was responsible for Valemount's first health clinic, despite the government telling him 'No.'
Some say his generosity, energetic spirit and compassion helped lay down not just the streets but the caring, easy and generous culture that persists today.
"I think God has forgotten about me," Bob once said. All his friends were dying. And yet here he was, alive – some would say healthier than ever.
14 years ago, at 84 years of age, Bob backpacked for several months in Europe the same way a teenager would – 20-pound rucksack, sleeping in hostels, travelling by train.
After his wife Cloe passed away in 1992, he took up travelling and his family "didn't see him for dust," his daughter Kathy said. Kathy later travelled with him to his favourite haunt at Playa de Coco in Costa Rica and on cruises to Alaska.
It was in Playa de Coco that Bob helped support another community. His granddaughter Donalda says she was amazed how many friends he had made. He wasn't one to stay in his hotel room or his resort.
"I asked him what kept him young many times," Donalda said. "In my opinion it was being part of a community here or in Coco; he never stayed home a day in his life. He was communicating, not by phone or email, but out talking to people; he talked to anyone who came by, in any part of the world, whether or not they could speak English."
It was in Coco that Bob met Graciela. She was a 15-year-old refugee from Nicaragua, working as a helper in the place Bob was staying. He saw how Graciela's employer was treating her. Going against his usual protocol that "it's better to shut up and walk away than to argue," Bob demanded that the employer never speak to her like that again, pay her a decent wage, and allow her to attend school.
Since that time Graciela and Bob have remained good friends. In his later years Graciela looked after him – doing his laundry, making sure he had everything he needed – when he visited Coco. During one visit she had taken a job out of town, but she quit her job just so she could be his temporary helper.
"Bob was part of our family and the Coco Beach community," Graciela wrote in an email. "Bob was so kind and generous with everyone around him. I am happy I knew him and the opportunity to take care of him made my heart happy."
When Donalda travelled with him to Coco she remembers being impressed at how he was selfless and non-judgmental of street people; he always went and talked to one down-and-out alcoholic.
She says her grandpa, who travelled until he was 98, was also a role model to the younger retirees.
"He inspired a lot of people younger than him who thought they were old or sick that they could keep doing this for another 20-30 years."
His longevity was not without its bumps. Here was a man who had escaped death numerous times: nearly freezing to death on the Alaskan Highway in his 20s; injuries while logging in the bush; surviving the Second World War, cancer, a quadruple bypass, an aneurysm. At 86 he phoned his granddaughter Donalda in the middle of the night to say goodbye. And then he walked out of the hospital to live a new day.
If he wasn't talking, he was moving. Born in 1915, his teenage years spanned the Great Depression, and there wasn't much time to dawdle growing up. He had to quit school in Grade 11 to help his family.
In the Yellowhead Pass and Its People book, Bob wrote of the 1930s in Alberta, "Here began some tough, lean years … log building, bees, and sharing wild meat was part of our survival. Dances were a great part of our entertainment."
After toiling in slave-like conditions on farms, he got a better job on a sawmill 10 hours/day, six days a week. They traded lumber for anything they could from nearby farms, including food. It wasn't long before he had his own mill, case steamer and planer.
During the Second World War, he enlisted in the army and worked as an electrician in Canada and England, repairing Lancaster bombers to make them flightworthy. He served from 1942-1945.
It was the lumber trade that he took up again after the war and the reason he came to Valemount. While Bob's father Edwin had travelled up the Canoe River with Fulton McKirdy in 1909, Bob didn't set foot in Valemount until 1948. Bill Olexiuk had invited him to help him set up a mill. Later he set up his own mill and partnered with Ralph Lebans.
Those were the days before paved streets, when roads were more like trails, and squatters sometimes set up homes in the middle of the road. The highway was not put in until 1969 so everything came by train – including the RCMP's occasional visits from Red Pass.
Bob's son Alan remembers fond memories of his dad teaching him to drive at age 9. Once as a prank, Bob suggested that Alan drive his right-hand-drive Ford Thames around town. Alan had to look through the steering wheel to see. His dad sat in the left-hand side (where people assumed he was driving) and read a newspaper. They drove all around town and people were shocked that he was reading a newspaper while, apparently, driving. They couldn't see little Alan peeking through the steering wheel to his right.
Bob was also a big reason why Valemount got a health clinic as early as it did. As a member of the McBride Hospital Board, a part of the nascent regional district, Bob had lobbied the Province for a health clinic in Valemount, but had been told the town was too small.
The board had a big fund of $10,000 at 3 per cent interest and they were considering moving the money. Bob suggested that they lend the money to the Village of Valemount, of which Bob was a commissioner (councillor), so they could build a clinic. One guy got up right away and said that's a great idea. He said the loan should be repayable at $2,500/year at 3 per cent. They gave him a cheque right away – it just said R. Beeson with "Health Clinic" in the corner.
Bob wondered how he was going to deposit the money since there was no health clinic society. Luckily the bank manager had been pushing for a clinic. Bob showed him the first cheque.
"Well how did you do that?" the bank manager asked.
Bob told him the story and said "How'd you like to be on the Valemount Clinic board?
Then another woman walked into the bank. She also became part of the board.
"We had a meeting or two but we just went ahead and did things, just as if no one else is going to bother us," Bob said in a video interview from 2008.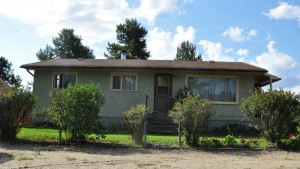 They decided to build the clinic as a house, partly for the doctors to stay in and because they knew that a bigger clinic would eventually be built.
A group of locals were soon digging a basement. They furnished all the lumber and hand mixed the cement. At first, doctors from McBride came over each Wednesday to see patients and bring medical supplies.
It was a Wednesday that an auditor from Victoria happened to pay a visit to this "Valemount clinic." He could not understand where some of McBride hospital's medical supplies were going, since there wasn't any Valemount Clinic! When he showed up on clinic day he was astonished.
"The living room was right full of people; people were outside and the rooms inside were full," Bob recalled in the video interview. "The auditor couldn't believe it. The folks at the McBride hospital said it was a wonderful thing; it had been helping them so much for the doctor to tend them in Valemount."
Louise Maclean recalls volunteering with Bob's wife Cloe Beeson at the clinic because there were no nurses in those days. They would look up patients' files and manage the waiting room.
Bob also helped veterans receive their health and housing benefits as a Legion service officer. Legion member Les Dammann says while Bob didn't talk much about his time in the war, he never missed a Remembrance Day that he can remember.
"That was important to him. He never went to Costa Rica before he attended the Remembrance Day ceremony."
Always concerned about the welfare of others, when they phoned him to let him know there was a place in the seniors' residence (which he had helped build), he was worried that there would be someone more deserving. He was already in his 90s.
About a week before he passed on, the Beesons had a family reunion in Valemount. Bob's daughter-in-law Susan Beeson said he really enjoyed it. He saw his two surviving brothers and many other family members. Susan says she had a special relationship with Bob.
"He really took the place of my father. My father died when I was 20. He filled that void in my life. He gave me some real different perspectives to look at life."
"He didn't ever take himself too seriously. He was generous; he was a kind – maybe to a fault. He was a kind, friendly, generous, big-hearted man."
He only spent a day and a half in hospital. His entire family crowded around. His son cautioned the family – he might just get up and walk out, as he had done time and again.
"Something about his spirit, had us convinced that he might not ever die," Donalda said. "This whole town seemed really in shock."
At the Gathering Tree, Bob's favourite place for coffee and food, staff wrote on the white board: "Bob, to the best darn guy we have ever known. We will miss your daily visits with us. May you be at peace with the angels. We love you! – All of us at The Gathering Tree."
When they were cleaning out his things, Donalda said she never knew how sentimental he was until she found a huge stash of papers: he must have kept every drawing, poem, and postcard from every child and grandchild ever given to him.
He also wore his wedding ring or a ring to represent it every day of his life after he got married. He wanted his tombstone to read "Finally Together Forever Bob & Cloe."
By: Laura Keil
This slideshow requires JavaScript.