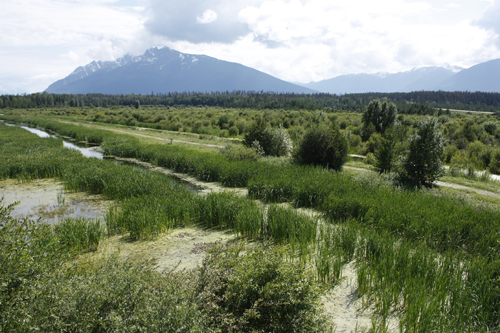 Valemount's Cranberry Marsh ecosystem is now better protected with a new provincial designation, but motorized traffic may be kicked out.
A new Wildlife Management Area designation for what's known as Cranberry Marsh or the Starratt Wildlife Sanctuary consolidates 319 hectares of Crown land, Nature Trust of BC land, and land privately donated. The wildlife sanctuary and wetland located adjacent the Best Western Hotel just south of the Valemount village limits.
The wildlife management area label will allow the government to enact protective measures necessary for maintaining the habitat.
"For a long time people thought that because it's this notable feature outside Valemount that of course it had to be protected. It really wasn't," says Bruce Harrison, a biologist who helps oversee the marsh's water and ecosystem health for Ducks Unlimited.
Beaver, otter, moose and deer and 150 species of birds call the marsh home. Bears have also been spotted foraging in the area. It is now under the responsibility of the Ministry of Forest, Lands, and Natural Resource Operations. Ducks Unlimited and the Nature Trust continue to have a stewardship function.
Tim Clermont, Crown land manager for the Nature Trust, says while the designation does not automatically exclude motorized traffic, the government will likely put a ban in place.
Residents have used the centre dyke for years to get from one side of the marsh to the other. Other people – both locals and tourists – take their machines down the trails and sometimes through the marsh itself.
Under the Wildlife Act, the government can set up a clause of non-motorized use, Clermont says. The bigger issue is summertime motorized use with ATVs, he says, as it disturbs the ground and wetland area. The decision will be made by an ecosystems biologist in Prince George who is in charge of developing a management plan.
"This is a sensitive habitat. We have to start bringing awareness to that," Clermont says. "There are lots of places in this community where you can bring your ATV or snowmobile."
Harrison says motorized vehicles often spread around invasive species such as thistle, in winter and summer. There is also the risk of gas or diesel leaks into a sensitive habitat.
He says a compromise could be to build a separate transportation corridor that is built of hard-packed earth. The route should have no potential for spills to get into the marsh. He thinks signage would also help.
"I think there's a lot of people that would see that and understand better that they might be impacting the marsh. They may be more inclined to stay to the main heavily used trails."
He says he's sympathetic to people using it as a transportation corridor, but he isn't sympathetic to users joy riding and mud bogging in that area.
Valemount Area Recreation Development Association GM Curtis Pawliuk says the marsh has historically been used as a transportation corridor. While it's not yet closed to motorized use, VARDA will be included in the consultation process should that occur, he says.
When asked about the highway's impact on the marsh, Clermont replied that its impact is "grandfathered in."
History of the marsh
About two-thirds of the area was donated in 1971 by the estate of Robert W. Starratt, a Valemount resident originally from New Brunswick. Starratt served as a bush pilot in Canada's north in the 1930s, and moved to Valemount in 1957. He died in 1967, and in 1971 his estate donated some of his property to the Province, which became the R.W. Starratt Wildlife Sanctuary.
Accessible eco-friendly trails and viewing towers allow birdwatching. Ducks Unlimited Canada also maintains a wetland enhancement project in the marsh which includes dykes, nesting islands and water control structures. In 1980, Ducks Unlimited Canada entered into an agreement with the Province to restore the wetland habitat on the Starratt Sanctuary. It has become a major stopover and breeding area for migratory birds. It provides diversity and is a major habitat feature in the valley.
Cranberry Marsh is a provincially important waterfowl nesting and resting area. The Nature Trust of BC acquired two parcels of land in 1978 and 1985, totaling 99 hectares. This land includes a black spruce bog which provides habitat for moose, deer, beaver and other wildlife.
While the priority for WMAs is to maintain or manage species and their habitats, other resource uses may sometimes be accommodated (e.g. forestry or mining). For this reason, WMAs are not part of the formal "protected area" designation under land use planning in British Columbia. The protected area designation includes parks, protected areas, ecological reserves, rec areas and conservancies.