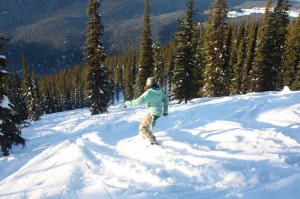 Submitted by Curtis Pawliuk
After three years of planning and development, The Valemount Area Recreation Development Association (VARDA) is set to officially open Crystal Ridge, a one-of-a-kind facility dedicated to snowmobile-assisted skiing and snowboarding located on the south side of the Canoe River next to Mt. Diefenbaker.
Crystal Ridge was categorized as a "Powerboarding" destination, at the request of a local group known as the Powerboarders, in a planning document called the Valemount to Blue River Sustainable Resource Management Plan that was created in 2004. The final product to date is a public sled-assisted ski/board area which currently boasts four gladed runs at more than 2000 vertical feet each!
The initial phase of tree spacing has been completed and the facility will offer four amazing runs for the 2012/2013 Season. The uniqueness of Crystal Ridge can be closely related to grassroots mountain biking where riders take turns shuttling each other up to the tops of the trails via a pickup truck, although now we are doing this with snowmobiles and using them to access some amazing snowy terrain.
No matter how you choose to do it, on one board or two, the 2000-ft vertical drop and runs measuring 2km long will be sure to please the snow-searching skiier/boarder. The area is accessed minutes from Valemount via the Westridge staging area where riders can use a 14km-long snowmobile trail. The area is under a Stewardship Management Agreement with the Ministry of Environment as it is set within a caribou sensitive area in which snowmobile use is strictly restricted to trail only.
There has been extensive volunteer time, effort and donated funding put into the creation of this facility. Without the initial vision of the Powerboarders and the dedicated group of VARDA volunteers, along with assistance from BC's Rec Sites and Trails branch and financial assistance from the Columbia Basin Trust, this facility would still be but a unique dream.
As this will be the first year of operation, I'm certain we will learn a lot and be able to keep improving the access to and enjoyment of the area in the years to come. On behalf of the Valemount Area Recreation Development Association I would like to offer my sincere thank you to these great people and groups who contributed to this project along the way.
If I have missed anyone, it was surely not on purpose and everyone's help was greatly appreciated.
Valemount Power Boarders
Columbia Basin Trust
Vegreville Sno-Chasers
Yellowhead Helicopters
The Source Tree Service
Mac Cochrane
Twin Peaks Resort
R Smith Logging
Patricia and Rudi Thoni
Darryl Polyk
Spazz Logging
Rick Plamondon
Brian Mckirdy
Lakes District Maintenance
VARDA BOD
Rec Sites and Trails BC
Dawn Watson
TDC Manufacturing
Terracana Ranch Resort
Laurier O'Dwyer
Archie McLean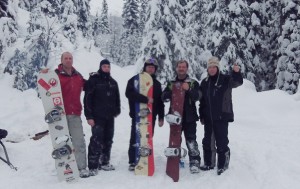 VARDA will be holding the official "grand opening" of Crystal Ridge on January 12th, 2013, and we would like to invite everyone to come on out and join us for a fun day on the hill. The day will begin at 9am in the Westridge parking lot and consist of a quick ribbon cutting ceremony at our bridge crossing over the Canoe River, a trip into the facility via snowmobiles, hot dog lunch, hopefully an aerial photo on the ridge top if the weather cooperates and of course, a few runs of some great snowmobile assisted skiing.
We also have two runs remaining on the facility that are yet to be named! VARDA would like to ask the users of Crystal Ridge and the Valemount community to help us come up with two names for the currently unnamed runs! Post your name suggestions on the Valemount Area Recreation Developments Associations Facebook Page under the Event titled Name a Run on Crystal Ridge. VARDA will then choose a handful of our favorites and put them back out to vote through all of our Facebook followers! This is your chance to have a little contribution of your own to this one of a kind place that exists only here in Valemount!
For more information Crystal Ridge or Valemount in general, please contact VARDA at
250-566-4817 or email [email protected] You can also check VARDA's website at www.valemountrecdevelopment.com and "like" the Valemount Area Recreation Development Association on Facebook!