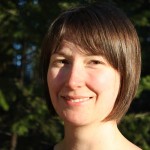 What makes a community forest different from another harvesting company? The purpose of a community forest is a noble one – to put more control in the hands of local people, whether a local government, First Nations or community group – and for the people handling the decisions to be accountable to residents living in the same community. Consequences have to be faced in a real way and can't simply be ignored from a distant head office. We know community forests don't always work perfectly. There are many cases documented of community forests gone wrong – for endless reasons, which I won't go into here. The 5-Mile viewpoint is an example of a community forest project that harmonizes its harvesting goals with local recreation goals. It's an example of a community forest actively engaged in helping the community in a way that doesn't impinge on its own bottom line.
The project is an example of leadership and vision on the part of the Valemount Community Forest board. It's also an example of the recreation group YORA soliciting the community forest in a way that makes sense. The result of this partnership is a recreation road soon usable to anyone with a small car. The multiple viewpoints from 5-Mile will soon rival for most-accessible viewpoint in the Valemount area. For people with limited mobility, this is an opportunity to "climb a mountain" – sort of. This partnership goes to show the amount of power we have as a community if we rally our collective forces. This project not only creates a long-term public road with huge recreation and tourism potential, but also provided some much-needed employment for local contractors. It is a genius project all-round.
How did the partnership work? The Community Forest simply allocated resources into harvesting pine on 5-Mile instead of somewhere else in the Valley – by doing so, they needed to upgrade the road, but not to recreation standards. This is where the YORA money came through – The $12,000 was used for three additional culverts and widening which would not have been necessary for ordinary harvesting. The 5-Mile road is also needed for the proposed bike park. The upgraded road and parking areas are now in place. Trees are also being removed at the top of 5-mile to improve the view disappearing due to tree growth.
In the winter, once completed, anyone with a pair of skis or snowboard will be able to ski/board from McKirdy Cabin in the alpine to downtown Valemount. This feature further cements Valemount as a year-round recreation destination. 5-Mile will be the closest viewpoint accessible to the highway by car.
Kudos to the local people who used their vision to lay the foundation for many more recreational projects.