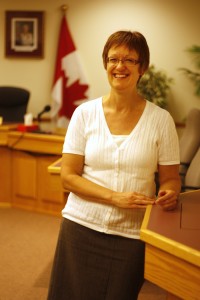 After eight months of acting as deputy corporate officer for the Village of Valemount, Anne Yanciw is being promoted to chief administrative officer.
The chief administrative officer position has been vacant since the departure of Tom Dall in early June. Yanciw has been filling in as interim CAO while the village sought outside guidance on the position.
Mayor Andru McCracken says the outside consultants are delivering two reports: one already completed on the CAO position and the other a "mini core review" which is still underway.
In terms of Yanciw's qualifications, McCracken says Yanciw shone during the Swift Creek emergency when she was filling in as CAO.
"We knew she was capable of managing the office and doing excellent work," McCracken says. "The question for us was how is she in times of emergency, when stuff is falling around our ears – can she hold up? Is she tough enough? We got to see that first hand. She handled the emergency in the most excellent way."
McCracken says one of Anne's achievements was navigating the reimbursement process from the Provincial Emergency Plan.
"It's ludicrous what you need to do to justify expenses," he says.
The coordinator of the program said Yanciw's reports were the best he had seen.
"That's really important because it determines whether you get paid or not," McCracken says. The total cost of the work completed on Swift Creek was $600,000.
Yanciw moved to Valemount in January of last year from Calgary where she worked in the emergency department of the City of Calgary. She is an experienced manager in human resources.
Yanciw says she enjoys the collaborative nature of local government.
"Local government is different than business; it's far more collaborative, rather than competitive," Yanciw says. "I really enjoy that because my approach is very relationship-based, whether it's with citizens or business or council or staff."
McCracken says they will be looking for a deputy corporate officer to fill Yanciw's former position.
He says the next step will be to consider the core review. The village snagged two of the top local government consultants in the province to draft the report, he says. He met Judy Rogers at a conference last spring. She knew a bit about Valemount's new council and told McCracken she thought the new council would be fun to work with.
"That really stuck and I thought if we ever need help, we're going to ask this lady; she seems really nice and clearly being the administrator of Vancouver is not the easiest way to make money."
The village hired Rogers and her colleague Jim Godfrey. Rogers held the role of city manager for the City of Vancouver for nine years. She was the first woman appointed to the position and it was under her leadership that Vancouver won the right to host the 2010 Olympic and Paralympic Games. She has received many awards for her work. Godfrey was the executive director for the 2010 Winter Games in Whistler. He was the municipal administrators for Whistler prior to that. During his tenure in Whistler, the community received first place for the Planning for the Future and silver for Livable Communities from the International Awards for Liveable Communities.
Godfrey came to Valemount August 13-15 and conducted interviews with all the staff as well as the council.
"I've been involved in local government for a number of years and the profession has been very good to me," Godfrey said in a phone interview from Vancouver. "I like to give back to the profession. Valemount was looking for some assistance and I thought it would be nice to help."
Godfrey says part of the core review report will include a baseline as to how Valemount compares to three other BC communities of similar size and nature; those communities are yet to be determined. He says they will compare Valemount's staff, operations and budget.
Depending on the results, they may make some recommendations he says.
"Valemount is at an interesting cross-roads in that it's moving from a resource economy to a tourism economy," Godfrey says. "If the cards fall the right way, there will be a number of changes Valemount will have to be prepared for. I think they'll be exciting and have a positive impact."
The results of the core review may not be made fully public, since they could include staffing changes, but a summary may be included at a future council meeting, Yanciw says.