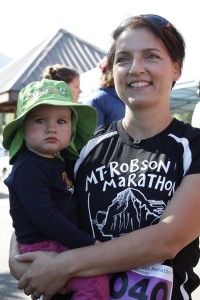 Feel like running a marathon? How about running a marathon in the shadow of the tallest mountain in the Canadian Rockies?
The second annual Mt. Robson Marathon kicks off this Saturday on the world famous Berg Lake Trail in Mount Robson Provincial Park, with multiple events including a half-marathon, a 12km run and kid fun runs.
Between 300 and 325 adult participants are expected, about 100 more than last year.
The day will also include events for family and friends who are supporting runners. From 11am to 2pm there will be activities around the Mount Robson Visitor Centre like a "Learn how to Paint Mount Robson" session with local artists on the viewing platform at the rear of the Mount Robson Visitor Centre. The "Valemount Oldtimers" musical group will be performing in the start/finish area. For the kids, there will be face-painting.
The race starts at the Mt. Robson Visitor Centre just off Hwy 16, and snakes up the road to the Berg Lake Trailhead. Elevation gain of the full marathon is 2600 feet from the lowest point, peaking at 5,400 feet.
12 aid stations will dot the trail with a supply of water & gatorade & outhouses.
Although a "marathon", the route is actually about 46km, or 4km longer than a true marathon. The half marathon section of the trail is mostly hard-packed dirt/gravel trail with very few rocky sections and hardly any exposed roots, the race website says. There are a few narrow sections where it will be difficult to pass other runners or non-runner park users. The trail will continue to be open to non-racers.
The race website says beyond the half marathon turnaround the trail is noticeably rougher with more exposed and/or loose rocks, tree roots and sections of bare rock, all of which will require extra care and caution. There are several bridges that may be slippery, especially if wet. Except for a section of gravel flats beyond the Kinney Lake Campground that uses the horse trail, the running route uses the hiking trail Organizer Darryl Polyk said they are still looking for volunteers. If anyone is interested in volunteering and helping make the event a success, they can call Darryl at 566-4347 or Patricia at 566-8244.
Last year, participants were blown away by the splendid trail, stunning scenery and wonderful enthusiasm of the volunteers, Polyk says.
According to a survey of participants following last year's event, 30 per cent of survey participants had only ever passed through the area. Half of participants had never been to Kinney Lake.
The survey also indicates the 2011 marathon brought in an estimated $20,000 of visitor spending in the Valemount Area. Valemount is the closest town to Mt. Robson, just a 20-minute drive from the trailhead.
Further details for runners interested in participating, including registration date and entry fees, will be announced online at
www.mountrobsonmarathon.ca when available.