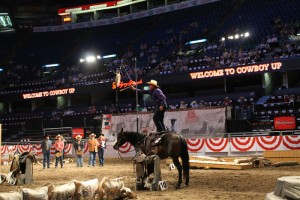 McBride horse rider Tom Ryan took his first run at the Calgary Stampede this year with his quarter horse gelding.
The Cowboy Up is a competition of "extreme horsemanship" that tests the patience and cooperation of the horse in a series of challenges.
"All these obstacles are set up with that relationship between horse and human in mind," Ryan says. "They set it up so you have to remain focused."
Ryan says the first day of the competition he was a little nervous.
"I was caught up with all the hype and hoopla, the crowds, lights and music," he says.
The second day he says they did much better and beside one small error they had a spectacular run, missing the finals by half a point.
The competition involves everything from walking through scattered driftwood, across bridges, through water obstacles, through narrow tunnels with cougar and bear skins plastered on the sides and over some jumps. In the photo, Ryan is shown stand up on the saddle after doing a fast free ride, and has to knock a drum mounted off the ground.
"You ask your horse to go wide open and then you ask him to stop and stand there with loose rein while you get up on the saddle and ring some bells,"
he says, adding that those things really challenge the horse to be part of that partnership.
Ryan says it's not a special horse you need, but the time and patience to understand your horse and for the horse to trust you.
"What they're really looking for is that horse to go willingly through that obstacle if the human asks. The more willing and faster the horse goes, the higher the points.
Ryan won first place at the Stampede qualifications in April.
Ryan says the competition level was awesome and he is proud to say he was right in there with the best of them. It was anyone's game to win.Ryan says he and Q are preparing for next year.