McBride's 80th anniversary of incorporation party will coincide with Pioneer Days/Adventure Weekend this year June 15-17th. There will be a parade, helicopter rides, a horseshoe tournament, children's activities, fire department dunk tank, blue grass music, a slow-pitch tournament, food booths, dinner with a dance with the Wiley Band, loggers events, pancake breakfast, rock-paper-scissors, a quilt walk, bingo and so much more.
In Valemount the 50th anniversary will be celebrated twice, once as part of Valemountain Days and again as a separate event Oct. 5-7. The planning committee is headed by Village Councillor Christine Latimer, Deputy Corporate Officer Anne Yanciw and Angie Perkins. The first planning sessions was held May 23rd. According to planning committee member Marie Birkbeck, the committee hopes to reach out to as many local clubs and organizations as possible to be part of the planning process.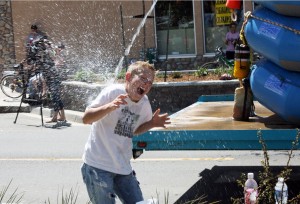 "From invitations and accommodations, to decorations and documentation, to communications and information, and almost everything in between, there is literally no limit to the input and the contributions that you can make," says Birkbeck.
The actual date of incorporation of Valemount was Dec. 12th 1962.
The village has created an email for the anniversary event which is [email protected]. You can send your ideas and suggestions to that email or contact the organizing committee. Written suggestions can be mailed to PO Box 168 attention Councillor Latimer. The next planning meeting will be Tuesday June 19th at 7pm in the Community Services Building on Gorse Street (old CNC Classroom).