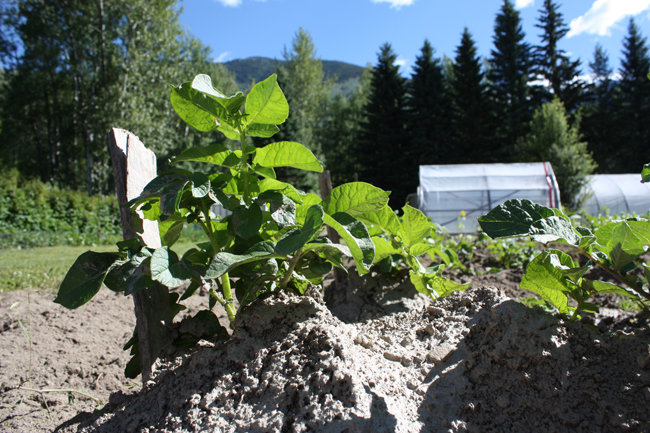 Picture this: freshly baked bread, crunchy carrots, honey, and hand-knitted booties all for less than 20 dollars. Locals chatting together about the lovely weather we've been getting and perhaps exchanging recipe ideas involving local ingredients. Any idea where you might be? You guessed it! You're at a Farmer's Market!
Talk of Valemount's very own Farmer's Market is circulating all over town, with hopes of it starting up this coming July and running through until the end of September.
"Everything right now hinges on whether we can get six dedicated vendors who commit to being at the market every week," says Dallas Bullock, one of the market's organizers. Bullock says they plan to hold the market on Thursdays from 4-7 pm on the south side of the info centre to allow for bathroom use and water access.
Not only would a market support local vendors, it would also allow residents to purchase seasonal produce, local crafts, and baked goods so close to their home, she says.
"I think regional markets are beneficial to each community for the ease of shopping and gathering. Not everyone has a vehicle or the time to drive and buy; it gives ownership back to the community to support their own event," Bullock said when asked whether she thought markets in Dunster, Jasper, or McBride would be affected by Valemount's addition.
This may very well be Valemount's chance to get creative and offer high quality produce and products at fair prices.
"The more we support one another the more fun it will be," Bullock says. "I would love to see buskers there and someone selling dinner BBQ style."
The possibilities can really go as far as the imagination; residents will no doubt be eager to purchase all kinds of different goods.
For anyone looking to participate as a vendor, there is one mandate to go by: "make it, bake it, or grow it." It will be required of each vendor to set up their tent and table and to stay for a full three hours (unless they should sell out of their product). This will ensure a regular schedule every week and allow for customers to have a window of set shopping time. Volunteers are also welcomed and appreciated as many hands make light work, Bullock says. For anyone looking to receive more information on the Farmer's Market, offer suggestions, or express concerns, please contact Dallas Bullock at dallascbullock at gmail.com.