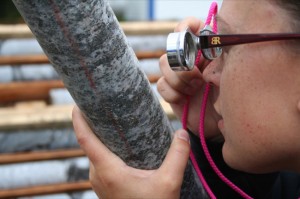 A new steel building north of Valemount will give shelter to drilling core samples from the Commerce Resources mine exploration project in Blue River and will likely be a "perpetual facility," according to the company.
The Regional District of Fraser Fort George is granting a 3-5 year industrial land use permit to Valemount resident David Craig for the storage site on his property, just north of Valemount adjacent to the Fraser River. Craig, a long-time shareholder in the company, has been storing the drill core samples on his property for about eight years without the shelter.
The newly-erected 80 by 100 foot steel building will provide extra security, says Commerce spokesperson Jenna Hardy. With the pine beetle felling many surrounding trees, the site became quite visible from the highway.
"We wanted to give ourselves a bit more security there," she says.
She says it will probably be a "perpetual facility." Core samples are like a library, providing long-term reference information about the geology of the area they are exploring.
"Core from many years ago can still help us unravel the geological story and is therefore a valuable resource for us," Hardy says.
The core has a diameter of 2.5 inches and is stored in small boxes about three feet wide.
The company has been investigating the construction of a Tantalum-Niobium mine close to Blue River for more than 10 years. They are still in the preliminary stage.
Markets for Niobium and especially Tantalum have remained favourable as big sources of the much-sought mineral are limited to mines in just a handful of politically stable countries.