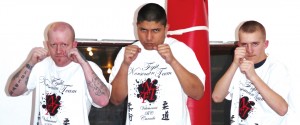 By: Ross Balard
Walking into the Best Western in Valemount BC, you might not suspect that the guy behind the desk handing you your keys could also hand you a serious beating. Meet Jose Cornejo.
When I first met Cornejo, he struck me as a happy and humble man – a proud father who loves his family. Then I learned that his nickname is "the bone cracker" and that this 5'11" middle-weight has a fighting resume longer than most.
Born in Mexico City and later living in Monterey, Cornejo started training in martial arts at the age of 11. Since then the 27-year-old has established a long list of achievements. A black belt in karate, a brown belt in judo, and a degree in head kicks and spinning back fists that he earned by competing in no less than 50 professional Muay Thai fights.
I walk up the stairs of the Valemount Mixed Martial Arts (MMA) club and Cornejo introduces me to his coach and manager Erik Myggland and Myggland's son Colton. Together these three are the heart and soul of the Norseman Fighting Team. Myggland is helping Cornejo prepare for an upcoming fight on March 26th in Nanaimo. Myggland tells me that Cornejo's opponent Matt Baker is a brawler and he believes that Baker underestimates Cornejo as just another "Muay Thai fighter."
Asked about his opponent Cornejo is respectful: "Matt is a strong puncher whose strategy will be centered on his boxing skills."
Cornejo also says he is underestimated, but that this is a good thing.
"The less Baker knows about me, the better."
I watch as Cornejo and the boys go through their training session. Starting on the ground, they go through dozens of manoeuvres and strategies that will give Cornejo an advantage. Cornejo tells me that he will try to keep his fight standing up, using his superior striking and ridiculously hard kicks to take the fight.
Asked about his plans for the future, Cornejo says he dreams of fighting in the UFC and wants to win a Canadian championship. With any luck he will be coming back home with his first win on Canadian soil. Good luck Jose.
Cornejo and Myggland also teach courses to the general public including Judo, Brazilian Jiu-Jitsu, Muay Thai Fighting, Women's Kickboxing and Fitness, as well as Women's Self Defence Seminars. For more information on courses and membership fees please go to valemountmmaclub.yolasite.com.