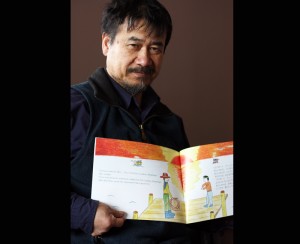 It's a story of friendship between Slim and Tomizou during the Great Depression, and it's caught the eye of judges for the 2011 BC Book Awards.
Valemount resident Seiji Hiroe's self-published children's book The Cowboy Fisherman is one of five books nominated for the illustrated children's book prize category. There are seven categories and the awards carry a cash prize of $2000 plus a certificate.
The bilingual Japanese and English story is based on the life of his wife Catherine Hiroe's grandfather 'Slim' who took up fishing to support his family. The story follows Slim and Tomizou, a seasoned Japanese fisherman who takes Slim under his wing. Slim uses his cowboy skills to save his and his son's life when they find themselves in dangerous water.
This is Hiroe's first book and he says he was surprised to learn it had been nominated. It's a good opportunity to share the story with a wider audience, he says.
"Even though we're a small valley, I really want the chance to tell the things they want to tell to all of BC and Canada," Hiroe says.
The Cowboy Fisherman is the only children's book nominated this year that was self-published. Hiroe printed 500 copies the first round last year. He says he only has 100 left after six months, which means he may print more.
"If some publisher is interested, I'm glad to do that," he says. "But I'm not going to do that myself."
"Writing and drawing is quite different from selling," he says. "It's a totally different world."
He says he will be attending the Book Award gala in April, but after seeing the photos on the website of previous galas, he realized he would need a suit.
"I can't go there with rubber boots, right?"
When he is down in Vancouver, he may swing by the Consulate General of Japan in Vancouver where a copy of his book is on display.
The book is also carried in McBride and Valemount, at the Whistle Stop Gallery, Odd and Ends, Inifnity P&V, Gathering Tree, and the Valemount Visitor's centre and museum.