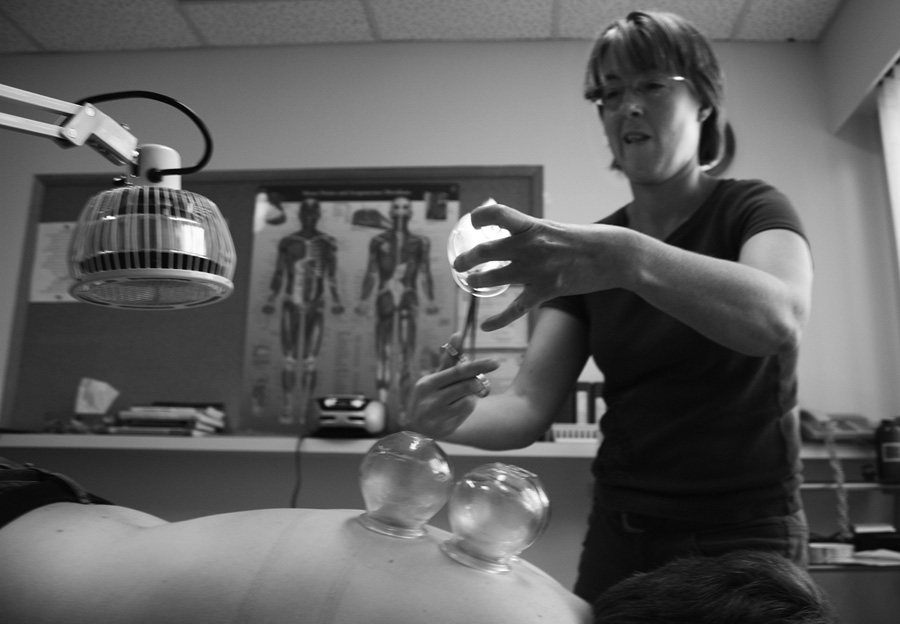 Last week Cathy McLeod, Conservative MP for the Kamloops-Thompson-Cariboo riding, made a motion in parliament to reform our country's health care system.
In the motion, she recommends three changes: an increased adoption of technological developments; better recognizing the changing roles of health care professionals vis-a-vis the needs of Canadians; and a greater focus on strategies for healthy living and injury prevention.
The motion, which passed in the House of Commons, doesn't have any teeth. It won't compel the government to make any concrete changes. But it brings to light some of the challenges our country will face in coming decades: a health care system taxed by the needs of an ageing population and the need for alternative ways of treating patients.
"The needs of Canadians have switched to an older population and one that has to deal in a much more significant way with chronic disease," McLeod said in an interview from Ottawa. "Responding to chronic disease requires a completely different approach than responding to acute episodic needs."
The motion's emphasis on healthy living and injury prevention is something traditional, alternative or complementary medicine has long touted as part of their domain.
But will alternative health be our medical salvation?
Many Canadians are skeptical about techniques that they perceive as un-scientific or just plain weird. Most have been raised with the idea that health care means physicians who studied anatomy and disease for four to six years. The lack of regulation doesn't help this.
Across the country complementary and alternative health care services are not treated uniformly or as an integrated part of most western medicine.
Yet, more and more Canadians are turning to these practitioners. In 2003, one-fifth of Canadians aged 12 or older, some 5.4 million people, reported having used some type of alternative or complementary health care in the year before the survey, according to Statistics Canada. About 15 per cent of Canadians aged 18 or older had used alternative health care in the year before the 1994/95 National Population Health Survey, indicating more Canadians used alternative health services in that time.
An estimated 11 per cent of the population aged 12 or older had consulted a chiropractor (the most common form of alternative care) in the year before the 2003 survey. Around eight per cent had consulted a massage therapist, two per cent an acupuncturist, and two per cent a homeopath or naturopath.
Due to the uneven regulation of complementary health, some of these services are lumped into the same category regardless of the practitioner's training and ability. Only chiropractors are regulated across the country.
B.C. is the most well-regulated province of alternative medicine. It was the first to regulate practitioners of traditional Chinese medicine, who treat disease by restoring the flow of energy through the body with herbal remedies and therapies like acupuncture. B.C. also has the most stringent educational standards for massage therapy in North America — requiring three years of training. Ontario and Newfoundland and Labrador are the only other provinces to license massage. Acupuncturists are regulated in B.C., Alberta and Quebec and soon in Ontario.
Naturopathic medicine, a system of therapeutics that emphasizes the body's ability to heal itself, is regulated in B.C., Saskatchewan, Manitoba, Ontario and Nova Scotia. Alberta expects to introduce its own regulations in 2011.
The province also pays for part of some treatments, such as acupuncture or massage. But there are dozens more treatments out there. And the message from the government thus far seems to be: try at your own risk. Most treatments are very subtle and non-invasive. But they come at a price. For people suffering from chronic disease however, complementary medicine is a welcome option, especially when facing a dire diagnosis that is equally as debilitating mentally as it is physically.
Micah Yoder
Acupuncture, acupressure and NAET

Micah Yoder practises acupuncture in Valemount, McBride, and Jasper.
"Do you feel that?"
"Yup."
Yoder is attaching a vaccaria seed to Antje Schoenfelder's ear. It's not the kind of treatment you'd expect when you go to the health clinic. But Yoder's work as acupressurist and acupuncturist is touted by doctors in the same building who refer patients to her.
This is Schoenfelder's first time having acupuncture. The seed taped to her ear can be left there several days. And as is characteristic of the profession, stimulation on the ear is not for the ear itself. Ear seeds are often used to treat back pain.
"Did the crunchiness go out of your shoulder?" Yoder asks. She gently places a hand on Schoenfelder's shoulder and pumps her arm slowly.
She says the ear is a microsystem of the body, and different spots on the ear correspond with different parts of the body. It's all based on Chinese medicine and the Meridian System.
But the treatment isn't just for people who are afraid of doctors.
"It's also for people who have gone through the medical system, done all the tests, and they're told there' nothing wrong. But they still don't feel right."
The effects can see miraculous: pain disappears, people can walk, they can think clearly and make big decisions, Yoder says.
The needles, like the seed, stimulate that area of the body increasing blood flow to areas that may be deprived. But not all the work happens in her treatment room: she says it's equally important that people keep a healthy lifestyle.
Yoder moved to Dunster eight years ago, and got into acupuncture after skimming through an acupuncture book in a friend's car on the way to Prince George. She tried it on herself and found she felt and thought better.
"It was like a load of fog had lifted," she said.
She says a lot of people are skeptical.
"They come in and say 'I'm here because someone told me to come but I don't believe in it. Then afterwards they'll say, I didn't believe in it, but I do see a change."
There are 1000 points through the body. She says the back has points for internal organs.
She even helps people rid themselves of allergies using a system called NAET. She can re-programme the person so their immune system doesn't perceive the foreign substance as dangerous.
In some ways this style of health care is a more privatized one. After all, most people are not covered for these kinds of therapies. Some insurance companies cover a certain number of massage therapy and physio therapy treatments per year. Low-income earners are eligible for 10 discounted acupuncture or massage treatments every year, receiving $23 back from the government for each session (roughly $50-$75).
They used to be fully covered. On the other hand, pharmaceutical drugs can be just as costly.
Alaina Chapman
Registered Massage Therapist

It's a start, says Alaina Chapman who usees the same room as Yoder in the medical clinic.
"I would like to see the government cover it more because it's preventative. It's going to keep them out of the health care system."
Being in the clinic increases their legitimacy as a medical treatment, she says. They receive many patients who are referred by local doctors.
Chapman first got a massage treatment to treat jaw and neck pain.
"I was so taken aback," she says. "Sometimes people have a perception that massage is just for relaxation, but I had no idea how therapeutic it could be."
She said her posture improved, and her neck pain went away.
She says she gets a lot of doctor referrals, for people suffering from chronic pain, sciatica, injuries, stress, or back problems. Some just want to maintain their health. She sees 10-15 patients a week, and will be now offering services in McBride on Wednesdays.
She adds massage therapy has a lot of amazing physiological effects. It increases serotonin, decreases cortisol, lengthens muscles, increases circulation, she says. If a patient has an injury or the muscle is tense, it decreases blood flow to the area.
"We can address the issues but we can never take away the disease"
But a patient can heal from tension headaches or spasms from sciatica.
"When I get elderly patients who say without massage, they couldn't walk, that gives me goosebumps."
Hopefully they won't have to go back to the doctor, if a doctor referred them for massage. She says often people are referred back and forth between massage, acupuncture, chiropractor, physio therapist depending on their needs.
Seiji Hiroe
Shiatsu
Seiji Hiroe, 62, knows how far the acceptance of alternative medicine has come in his career. When he moved to Valemount 30 years ago, he was denied a permit to practise massage because the current council said it was "related to prostitution."
"It's wonderful how the attitude of the village has changed," he says.
At that time, there weren't even any permanent doctors, he says, just locums.
"Each person has to look after their health, not just a doctor or pharmacist or chiropractor," he says.
Hiroe practises a type of Shiatsu called Koho. But he often mixes his techniques.
His mother did Shiatsu on a small-scale in Japan. There, Shiatsu is more part of the norm of everyday life. Some people come in for tune-ups on a daily or weekly basis, he says. Others come before they get sick to prevent illness because it's too expensive later on.
The basic tenets of complementary medicine, which often stem from Traditional Chinese Medicine, focus on the intertwining of spiritual, emotional and physical health.
He says he didn't believe that shiatsu worked when he was in high school and his mother offered to give him Shiatsu for a headache.
"I said no I don't believe that, it's not scientific, it doesn't work."
After he immigrated to Canada, and came to Hinton, he married a woman who died at 25 from cancer.
She had pain after her treatments.
"I didn't know what to do," he says. "So I gave her Shiatsu."
The treatments worked. Each time, she said the pain left temporarily. Even temporary relief was good for someone who had pain all the time, he says.
At the time there was no shiatsu school in Canada. So he went back to Japan to take the same type of Shiatsu as his mother. He then worked with persons with disabilities in Edmonton, helping them to sleep and relieve pain.
Regena Bergen
Meditation
Regena Bergen says she got into meditation because she knew she needed something to calm her brain – what she calls her "monkey brain."
"I tried many different ways of calming my brain, I'd buy books and that, but none of them worked because I wanted immediate satisfaction and none of them were giving me that so I would try them for a while and quit them."
You can still have thoughts going through your head and it still makes a difference.
It took a couple weeks to see a difference – her thoughts were not as negative.
"It's such a big relief – it just beats us up,"
She says a little girl told her she had anxiety and Bergen told her she very seldom has stress now. The little girl asked why and she said because she meditates. A few days later she got the idea to teach meditation to children, since children often have anxiety they aren't able to express.
"I think it's very important to find a place to calm yourself. It can be in your own house. It can be as easy as taking deep breaths and that lowers your blood pressure and makes you calmer."
She says her research suggests there are many advantages to meditation and one of the major ones is less stress.
"I remember in high school how much peer pressure there was, and stress there was," she says. "Self-confidence is a big thing too."
She'll be teaching youth 9-19 after school beginning this month.
"We want to balance the mind, body and spirit. When our heart opens more, then we're kinder to people, we have compassion."
She says the goal of alternative health practitioners is to assist people – but people have to do the work themselves.
"People like to have a quick fix," she says. "Ultimately it's our responsibility to look after ourselves."
Sue Gehrig
Ancient healing and massage

Like Bergman, Sue Gehrig's ancient healing hot stone and crystal massage is based on the idea that each person is responsible for his or her healing.
"Everything I do is ceremony," she says. "People want you to come and clean out their house – you do the same thing in their body."
Gehrig's treatment room is much different than the one used by Chapman and Yoder. A faux fire place is lit, and all around are crystals, rocks, candles, while soothing music plays on a cd player.
For Gehrig, it's about bringing the old into the new, which is how she advertises her therapy: The Ancient Art of Healing in Modern Times.
In 1998 she was diagnosed with an auto-immune disease. Was told she could manage her pain but there was no cure. But she wanted a different way to think about it.
"They were very honest," she says. "They said they couldn't heal me. So who was going to heal me? I had to do it."
She sees it as being a pioneer in changing the way she views the world. And that directly impacts her thoughts and emotions which in turn affect her physical health.
"Our notions create our physical illnesses and addictions," she says. "How to change a belief system?"
She says the most important thing is to be loving to yourself and to create ritual and ceremony. The impact of healing our own self ripples outward to our family and community.
"When we're born who gives us our perceptions? Our parents, our peers, our technology. We have to take responsibility for healing instead of giving it to the doctor or hospital."
She says doctors support her and have advised patients to see her, and she supports their domain of health care as well and sees her work as complementary.
Barbara Faust
GeoTran and detoxification
Barbara Faust does detoxification through GeoTran, Bio-Electric Lymphatic Drainage, and IonCleanse Electronic Detoxification. She says tools like GeoTran can help people deal with their problems no matter where they are.
"If we entertain a lot of negative thoughts, we accumulate a lot of toxins and we're unable to process information correctly.
She says it is important to offer solutions to people that empower them.
She uses GeoTran to do muscle testing and call up stress – in other words muscle glitches. Then she enters a correction in the body in the energy and information field. It sounds very sci-fi, but Faust says it is effective.
"The person has new neural pathways to go on a new journey on what they're wanting to change," she says.
"We need tools that allow us to change in the blink of an eye."
She says she learned the techniques in 2002 from the inventor of GeoTran in Calgary. She says she was frustrated as a physiotherapist about always seeming to treat only symptoms.
"Geotran – for me that was it. It allows you to address problems when they're still in the energy and information field. They haven't manifested in the body yet."
It's not a feel-good thing like a massage. It's more like a viral scan on a computer – something you do every day.
"Many people today they crash – because of toxic overload," she says, adding the effects can range from lower stress, less pain, increased creativity, and happiness.
"Our health care system is in a crisis. People need to take care of themselves. We must be responsible for our actions and what we don't do."